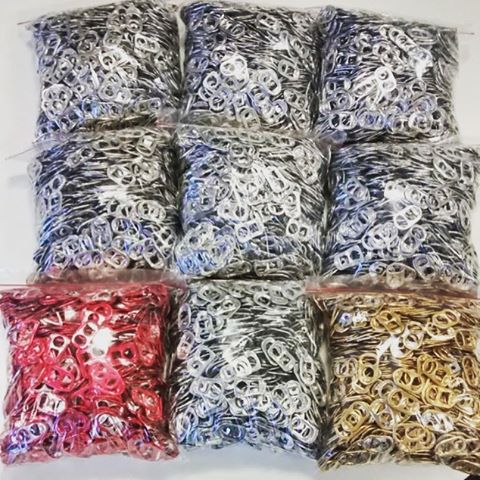 Each ring pull is worth 3p
Collect and send ring pulls
We need your ring pulls! We recycle the ring pulls from cans of drink into a range of eco-fashion handbags, clothing and accessories. You can collect on your own or with a group of friends, we can never have too many ring pulls so please keep collecting!
Detaching your ring pull
Watch our video to see the quickest and easiest way to take them off.

Collect them
Cut off the top of a big water bottle, download our ring pull wrap around and stick it around the bottle. Place it anywhere you might find lots of ring pulls such as your work kitchen or canteen and encourage those around to donate their ring pulls too.
Become a ring pull agent!
Encourage others in your community to collect as well. Get them to deliver them to you, then send them to us all together. Everyone who collects for us will get a Thank You gift voucher at the end of the year to spend in our online shop.
Please send them to
Purple Community Fund (PCF)
PO Box 294
Hedge End
Southampton
SO30 2YD
And please include your name, address, email and telephone number so we can be sure to thank you.