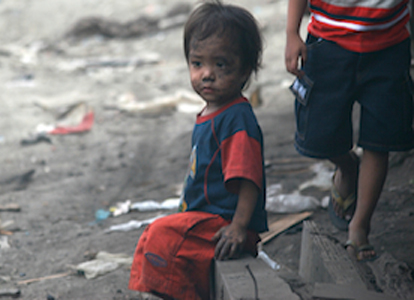 Develop a special connection with your sponsored child
Sponsoring a Child with PCF
They say we all have guardian angels to help us throughout our lives. There are many children who, because of their current situation, would think otherwise. You can be a child's guardian angel by sponsoring a child with PCF from the poorest of the poor families, you can empower them.
These children have families who are unable to provide for them the life each and every one of us deserves. Their families are too deep into poverty to lift themselves out without any outside intervention. These children are subjected to the struggle and abuse alien to most adults and children of wealthy industrialised countries. Much of their hardship is unimaginable.
For our children, the concept of living the life of a child as a child is a far-fetched dream. However, these children have such strong characters that they are able to take on the hardships on a daily basis, and with your love and support, along with that of their families, they can be given a future that is bigger and brighter than they could possibly imagine. With you as a child's guardian angel, that child will live a life he or she truly deserves!
Your Contributions
Sponsoring a child doesn't just mean your contributions will simply go to a pot of funds that will be used for a general purpose. Your contributions in sponsoring a child will focus specifically on the programs that will help and assist your child.
The level of poverty that the PCF school children endure led PCF to implement a series of social intervention projects. Feeding programmes, health programmes, counselling and welfare systems are in place to support not just your child, but their entire family by creating optimal conditions so that the child you sponsor can remain in school until he/she completes their education. Over the years the educational programme has been modified so that every child is given every opportunity to succeed.
It costs just £20 a month to sponsor a child, although the true monthly cost of all the programs we provide for the children is in fact £65 a month. PCF recognises that the full cost is often too much for individuals to cover, and so we commit to covering the difference monthly through other fundraising.
The education programme includes:
Full time education
School breakfast and lunch.
Regular medical check-ups.
Continued improvement of school facilities and equipment, ie computer lab, library, play areas, sports equipment.
Remedial classes for children who fall behind in their studies or have a difficult time learning.
Summer School for students who have not passed their exams to receive extra tuition to give them the chance to move up a grade.
School uniform.
School bag and supplies.
8 sets of high quality school books that are used in class and for home assignments.
Tutorial classes for students in Government run Schools.
Reward systems to encourage children's regular school attendance and academic achievements.
What You Can Expect
Sponsoring a child also isn't just a "fund and forget" kind of operation, when you sponsor a child through us, you will be able to keep track of your sponsored child's progress, and watch his or her life develop on a regular basis. You will have a more special connection with your sponsored child beyond just being giver-receiver should you wish to.
Below are some of the things you can expect from us once you sponsor a child.
You will receive login details for our online Sponsors Area which is where you can look at all details of your child and view all updates – as well as a facility for you to send letters and photos to your sponsored child.
You will receive a letter and photograph of your child twice a year and a school report once a year, these will be uploaded and available to view on the Sponsors Area. These can also be posted to you if you would prefer.
What You Can Do
Sponsoring a child doesn't have to be a passive activity. You can be very proactive when it comes to communicating with, and caring for, your sponsored child, which will definitely make the experience for both you and the child, much more special.
Below are some of the things you will be able to do once you sponsor a child.
You will receive a unique username and password for the Sponsors Area the username is your email and password your postcode from here you can send letters and photos directly to your child.
The school operates on a tight timetable and so it is not possible for them to respond to your letters, but special letter writing days are scheduled for the sponsored children so that the letter writing of your two annual updates does not interfere with their schooling.
You can visit your child and their family in the Philippines, please contact the UK office for the guidelines and procedures.
You can easily sponsor a child, or children using the paypal link below. This will automatically setup recurring monthly payments from your account. You can also cancel anytime, by logging into your paypal account.
After completing the sponsors link further info will be emailed to you. Please include your main contact email in the paypal section if it is different to your paypal email!
If you don't have a paypal account, you can still use the link below for most debit and credit cards. It takes minutes to set up and will make an ongoing difference to the life of the child you support!
Please remember to make sure that our Email address is added to your trusted list. Many of our members are finding that our Emails are ending up in their junk folders. Our statistics show that only 42.1% of our members open the Emails which we send to them. It is important for us to communicate with you regarding your sponsorship and useful information.
Thank you.