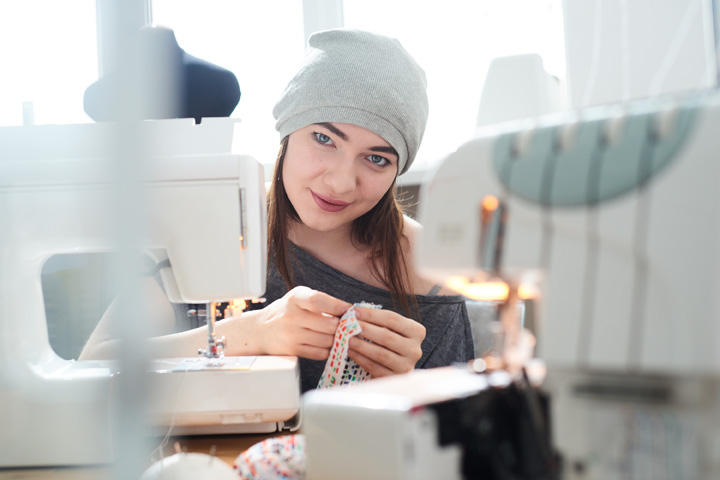 Working with PCF is the beginning of a new story
Socially disadvantaged people
We believe in second chances and people's ability to unlock their potential at any stage of life.
Who We're Working With
Her Majesty's Prison Service
Eastwood Park
It was never on my CV to be in prison! But with something like this I can leave with my head held high. Yes, I made a mistake but I've worked hard to change that and through this work and gaining a qualification, I can prove it.
Tracey
Being able to find work once we've been through the gate could help stop women coming back into prison. The problem is a lot of women are going out and reoffending as they have nothing once they're out. This gives them a chance to do something and get out of the mess their lives are in.
Paula
The textile qualification gives you something to aim for. It makes you feel you're worth something. A lot of us struggle with confidence in life and this can help us rebuild it.
Sharron
Through this project we'll leave with a bit more faith and belief in ourselves. We'll go out feeling a lot more positive, knowing that we can do something, we've got a new skill and we can go forward without reoffending. It gives us independence.
Sarah
---
International Projects
In the Philippines we work with the poorest of the urban poor who are living and working in the slums and on the rubbish dumps.
Twelve months ago I worked on the rubbish dump and could not support my family. Learning to make beautiful handbags and jewellery has given me confidence. I don't feel worthless and have learnt that poverty should never be a hindrance for you to succeed.
Charlita, Philippines
---
Other Charities
By partnering with us and selling some of our beautiful, recycled merchandise made by both disadvantaged people in the UK and the Philippines, we can provide other charities with an opportunity to raise funds for themselves.
Who We Partner with
Bansang Hospital Appeal
The profits from selling our products are used to deliver medical aid for the children and adult patients in a hospital in Bansang, The Gambia, West Africa.
CGS4Gambia
The sale of our products provides young people with a unique experience of global citizenship through the planning, fundraising and hands-on delivery of micro aid projects across the Gambia.
Me V Me
We produce laundry bags to keep Me V Me fantastic range of gym gear in mint condition. Plans to expand the range are underway.