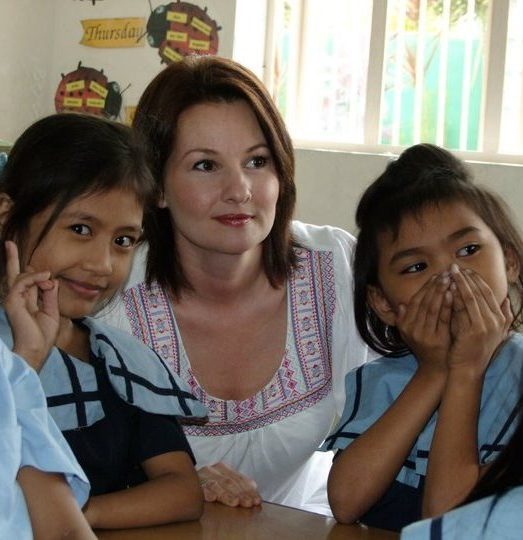 Jane with students of The Purple Centers Foundation
A 20 Year Crusade
In 1996, disillusioned with her with her career in the newspaper industry, Jane Walker headed over to the Philippines for a rethink about her future. What was supposed to be a short break ended up being the start of a brand new life.
Jane heard of the horrendous conditions in which families were living and working on rubbish dumps in Manila, and on arrival asked a taxi driver to take her to the worst slum areas he knew – so she could see for herself. It was the most pivotal moment of her life and the start of a 20 year crusade to try and help break the cycle of poverty through education, welfare and livelihood programs. After building the world's first school out of recycled shipping container vans and transforming the lives of thousands of families, the charity is without question, a remarkable success.
Wanting to bring that success back home to the UK, and realising that the charity in the Philippines – now known as The Purple Centers Foundation – was closer to sustainability, Jane changed the charities name from the Philippine Community Fund to the Purple Community Fund. With the main focus being on social enterprise and well being programmes, PCF continues to bring education, work and qualifications to those in the Philippines and now also to those most in need here in the UK. Our aim is to help socially disadvantaged women go forward in their lives with renewed confidence, self-esteem, and with the ability to work and earn money so they can look after themselves and their families.